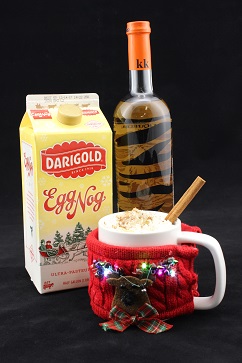 A Holiday favorite served COLD or HOT, our caramel with Egg Nog is a seasonal best! A switch from adding the traditional Brandy or Rum, CARAMEL brings a new taste sensation to the idea of enjoying Egg Nog!
Ingredients:
kkAda and your favorite brand of Egg Nog. Garnish any way you want!
Directions:
In a cup for heating or in a tall glass. Add 1 or 2 shots of kkAda Caramel Liqueur to the Egg Nog of your choosing. Garnish with whip cream, nutmeg, or perhaps a cinnamon stick.