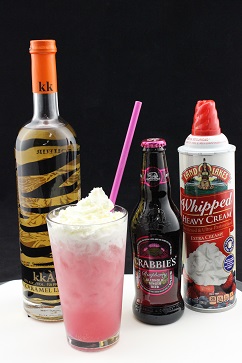 A summer caramel cooler, that will get your attention! CRABBIE'S Raspberry and Caramel, come together uniting a, tangy bursting-with-flavor, mouth-watering juicy soda! If you think that's a mouthful...try this drink...it will fill your mouth with taste-bud-busting flavors!
Ingredients:
kkAda Caramel Liqueur, CRABBIE'S Raspberry Ginger Beer (Alcoholic), Heavy Cream.
Directions:
In a tall glass of ice, fill 3/4 (or as needed) with CRABBIE'S Raspberry Ginger Beer. Add 1oz. of kkAda Caramel Liqueur. Add Heavy Cream as needed and stir. Garnish with added heavy cream on top and a maraschino cherry. A very special raspberry Italian soda! NOTE: If Crabbie's Raspberry is NOT available in your area, regular Crabbie's can be used. Simply use regular Crabbie's Ginger Beer, add a tablespoon of "Torani Raspberry Syrup" or comparable/similar raspberry syrup. It works great and delivers the same raspberry/ginger flavor.