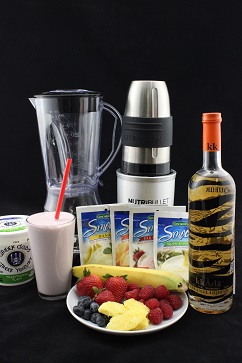 A smoothie ain't no smoothie until you add CARAMEL! Orange, Banana, Strawberry, Mango, Raspberry and Pineapple, are all great favorites, but add caramel to the mix... and now you have a real smoothie! Made with water, milk or yogurt, you add a little caramel, and now you have a caramel-licious smoothie that screams flavor!
Ingredients:
kkAda Caramel Liqueur, (water, milk or yogurt) Fruit, ice, and smoothie mix
Directions:
In a blender, add fruit and 1 packet of Smoothie Mix, Now (your choice) add 1/2 cup of milk or 1/2 cup of water, or a 1/2 of yogurt, Then 1 1/4 cups of ice, and 1oz. shot of kkAda Caramel Liqueur. Blend for one minute and serve.