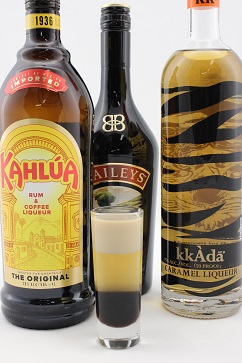 This delicious three-tier SHOT, is created after Peter Fich's B-52 (Band/Bomber) Shot of the 70's. Our B1-B Shot is also created after the Boeing/Rockwell Bomber of the same name. Just like the B-52 Shot, the B1-B Shot is a three-tier Bomber! The original B-52 was made with, Kahlua, Bailey's, and Grand Marnier. Our B1-B is made with kkAda Caramel Liqueur, Kahlua, and Bailey's. The original B-52 had a orange/coffee twist, and our B1-B has a coffee/caramel twist. This drink takes some bartending skills to achieve the three layer look, but with a lttle practice, you will be a pro in no time. A popular SHOT in the greater Seattle and Pacific Northwest area because of the Boeing connection.
Ingredients:
kkAda Caramel Liqueur, KAHLUA, and Bailey's
Directions:
In a Shot Glass, pour the first layer of Kahlua, judging that there is going to be three equal layers. Now add kkAda Caramel as the second layer by using a bartender's spoon (for layering) or the blade of a butter knife. Laying the butter knife blade along the edge of the shot glass at an angle, slide down the knife blade to just touch the Kahlua, now gently pour the kkAda on the blade raising the knife blade as that layer is added. Now you are ready for the last and final layer of Bailey's. Once again using the butter knife blade, along the side of the shot glass touch the kkAda layer and gently add the Bailey's raising the butter knife blade as you add the final layer. This may take some practice, but what a party favorite! These shots are delicious! IMPORTANT: To create this three-tier shot, all the products used must be used at room temperature.